Converting a popular question into a viable solution.
Display your message to many local and frequent visitors to our website. Our website benefits residents, commuters, and travelers. HowsTheMountain.com is a great place to share your business's message and attract new customers!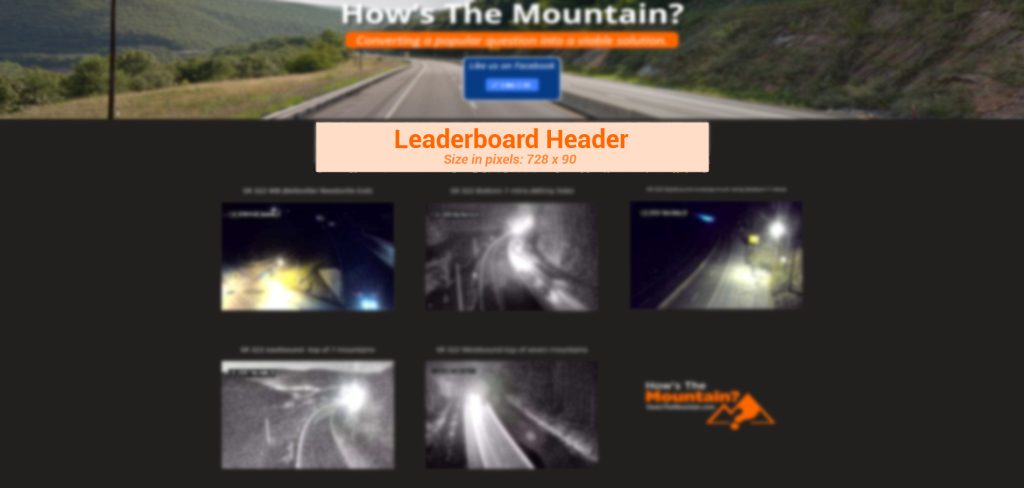 Leaderboard Header
Size: 728px by 90px
Display Location: Top header of website prior to content.
Applicable Devices: Available on Desktop, Tablet, and Mobile
Price: See Ads Ordering Page for Details
Ads Available in this Space: 3 ads are available in this section. Systematically randomized display on each website visit.
Sample Advertisement:
Message Us About Advertisement Opportunities
This website is not affiliated with the Pennsylvania Department of Transportation (PennDOT). This website's intended use is to provide information and guidance to already established travel data made available by the Pennsylvania Department of Transportation (PennDOT) 511 PA service.
The official 511 PA website is available at 511PA.com
Please access this website ONLY when safe to do so. NEVER access this website while operating a motor vehicle.